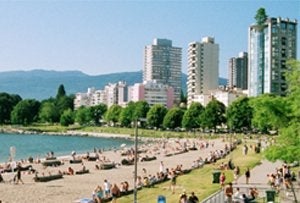 Bordered by downtown Vancouver, Stanley Park, and the sparkling ocean, the West End is an eclectic, vibrant neighbourhood. A large number of restaurants, shops, and entertainment venues make it one of the liveliest areas in the city.
Densely populated, the West End offers a diverse mix of older renovated homes, low-rise buildings, and new high-rise condos on tree-lined streets. Sprawling parks, beautiful beaches, and some of the best shopping Vancouver, match urban convenience with a nature-lover's dream.
Main thoroughfares offer easy access to both SkyTrain lines, arterial routes to North Vancouver and Whistler, and an easy walk to the downtown core.