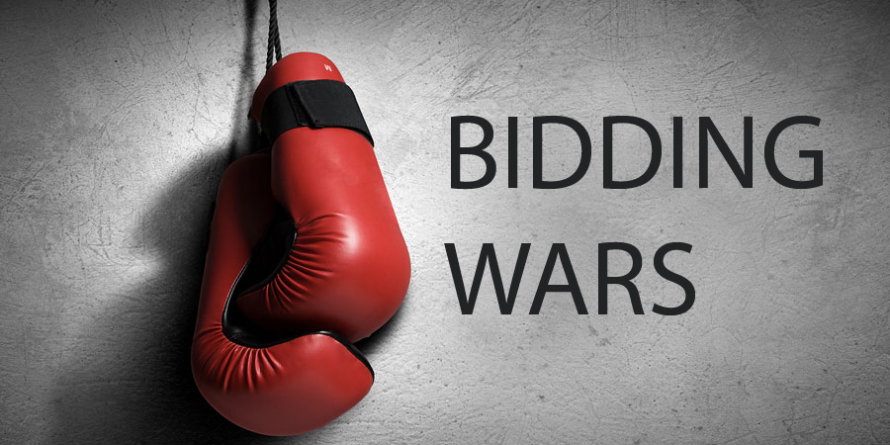 As competition for available homes in Metro Vancouver heats up, bidding wars are a reality. If you find yourself in the competing offer situation and you are willing to participate, understand how they work. Having a strategy at the outset can minimize the pain and maximize the likelihood of buying the home of your dreams.
Start with your highest offer
This is not an auction. You will not know what the other buyers have offered; simply the number of other offers on the table. If you choose to participate, make your top offer in the first round. Don't count on having the opportunity to improve on your offer later. There is no guarantee that there will be a later.
Keep in mind that a property is worth as much as someone is willing to pay for it. You do not want to be in the situation that the winning bid was a price that you would have paid.
It is not always about the money
Sellers are under no obligation to choose the highest priced offer. The size of the deposit, closing dates, and other conditions will affect their final decision. Meeting the seller and explaining why you want the house can go a long way too. Many sellers are emotionally attached to their home and want to see it passed onto a family that will love as they have.
Crunch the numbers
Work through your numbers before you go into the market. You need to know how high you can comfortably go in the moment. Set a top price and stick to it. No matter how much you love the home, hold the line. This is a decision that will affect your long-term financial health.
Remember when you are running the numbers, to set aside money for the other costs involved in buying a home like:
Property Transfer Tax at 1% of the 1st $200,000, 2% on the balance of the purchase price
Lawyer Fees
Home Inspection Fees
Home Insurance
Property Tax Adjustment – based on the adjustment date you may have to reimburse the seller for prepaid property taxes
You may well lose one or two bidding wars before you win one; it's almost a rite of passage for homebuyers. A knowledgeable REALTOR can help you write a strong, competitive offer. Good luck in your home search!